SPMark04 Freeware Version
SPMark™04 is the most comprehensive benchmark for modern smartphones.
With SPMark04 you can test the speed of your Series 60 phone and you can compare it to other S60 models. Benchmarks include 3D tests (comprehensive OpenGL ES 3D test suite to measure graphics performance) and system tests. The program also shows detailed system information module that reveals phone's technical data.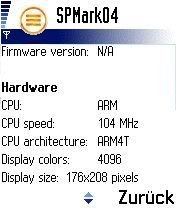 Minimum Smartphone Requirements
Symbian 6.1/7.0
Series 60 (1.2/2.0) or UIQ (2.0/2.1)
1.2MB of free space on main memory
3MB of memory during the benchmark run

Download SPmark04 Freeware