S60Zip v1.02 Symbian Freeware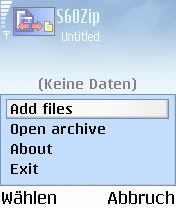 S60Zip is a free ZIP file manager for Symbian Series 60 v2. It's PKZIP compatible and capable to compress and uncompress archives.
You can e.g. download ZIP file via browser and it's automatically launched to S60Zip. Then you can extract whole content into phone or open single items straight without extracting them.

Features:
- PKZIP compatible.
- Compress/uncompress.
- Open ZIP files from messages (e-mail, Bluetooth), browsers, file explorers etc.
- Send ZIP files via Bluetooth or e-mail.
S60Zip v1.02 supports following Series 60 v2.x phones:
Nokia 3230/6260/6600/6620/6630/6670/7610
Languages: English, Finnish, French (Thanks to B Pilloy), Russian (Thanks to Pavel Glushkov),
Italian (Thanks to USBANO).
Download S60Zip v1.02 Freeware